Parents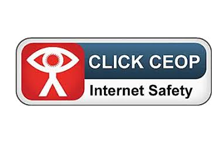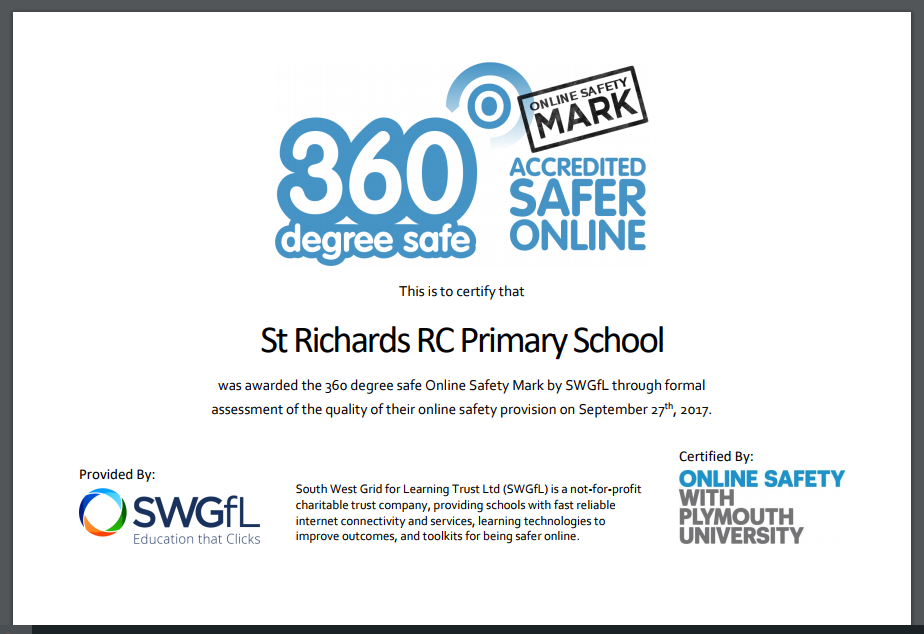 St Richards RC Primary School Online Safety Mark Report 4 Oct 2017 (Click to view our Report)
At St. Richard's we understand that the Internet is a fantastic place for researching and socialising. Whilst we encourage our pupils to use the Internet, we are also aware that there are potential online dangers which may affect our pupils. We want to support the children and our parents in keeping safe by offering information and support on the wide range of online safety issues that might affect the whole family.
E Safety Mark
As a school we are currently working towards the E Safety Mark. As part of this process we are required to use the 360 Degree Safe tool to guide our progress. This process demonstrates our commitment to online safety as a part of our curriculum.
This year the children have learned various aspects about online safety some are listed below:
What is our personal information?
How to create a safe password
Who are our online friends?
Who can view your images?
What is a digital footprint?
How do you behave online?
Email
Searching safely
Plagiarism & Copyright
Chatting & Gaming safely
Online Safety Group
This academic year we have established an Online Safety Group consisting of Year 6 pupils. They are committed to raising awareness about online safety and providing support for their peers. The online safety group meet termly to discuss ideas and issues.
Activities for Children
Please click on the links below to find out how to keep safe whilst online:
http://www.childnet.com/resources/smartie-the-penguin
http://www.childnet.com/resources/the-adventures-of-kara-winston-and-the-smart-crew
http://www.kidsmart.org.uk/teachers/ks1/digiduck.aspx
https://www.thinkuknow.co.uk/8_10/fun/
http://www.bbc.co.uk/cbbc/curations/stay-safe
http://www.netsmartzkids.org/AdventureGames/TheInternetSafetyGame
Support for parents/carers
Keeping Under Fives Safe Online
Supporting Young People Online
Young People and Social Networking
A Parents Guide to Video Games
https://www.nspcc.org.uk/preventing-abuse/keeping-children-safe/online-safety/parental-controls/

http://www.saferinternet.org.uk/advice-and-resources/parents-and-carers
https://www.thinkuknow.co.uk/parents/
http://www.childnet.com/resources/know-it-all-for-parents
http://www.kidsmart.org.uk/parents/
http://vodafonedigitalparenting.co.uk/