Online Safety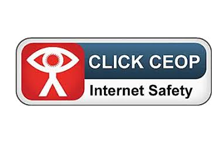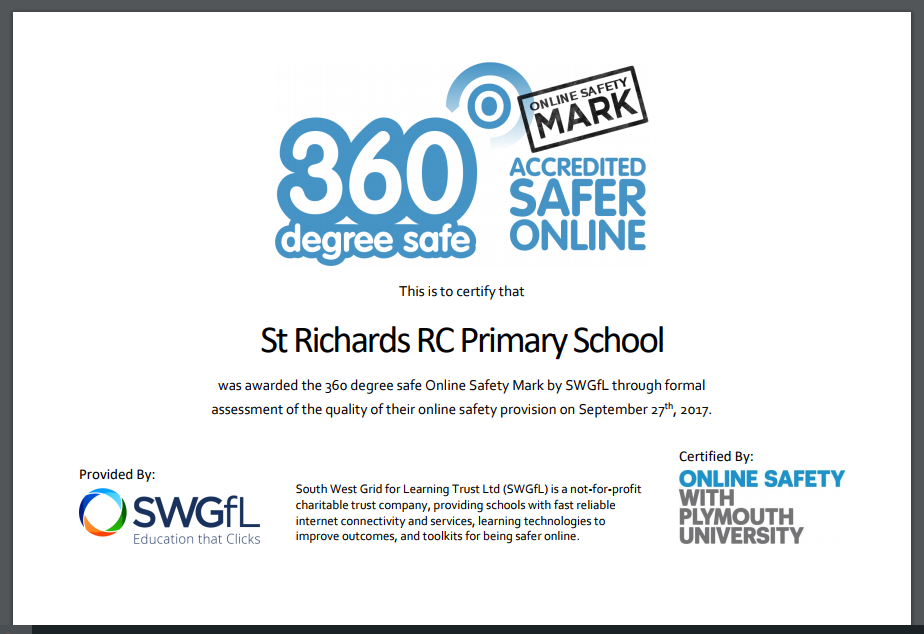 St Richards RC Primary School Online Safety Mark Report 4 Oct 2017 (Click to view our Report)
At St. Richard's we understand that the Internet is a fantastic place for researching and socialising. Whilst we encourage our pupils to use the Internet, we are also aware that there are potential online dangers which may affect our pupils. We want to support the children and our parents in keeping safe by offering information and support on the wide range of online safety issues that might affect the whole family.
E Safety Mark
As a school we are currently working towards the E Safety Mark. As part of this process we are required to use the 360 Degree Safe tool to guide our progress. This process demonstrates our commitment to online safety as a part of our curriculum.
At St Richard's we have a bespoke Computing curriculum which includes a termly unit for every year group under the heading of online safety. As a result, our pupils gain a progressive understanding of the potential dangers of online activity as they move through our school. For more information, please see the Computing aspect of our Long Term Plans here
Our Weekly Newsletter
National Online Safety (NOS) have created free online safety guides for schools to share with parents and carers. This campaign is called '#Wakeup Wednesday'. At St Richard's we provide a weekly link to a different topical e-safety issue so that parents and children are better informed and able to make better choices about their internet use.
Useful Links for Parents
https://www.nspcc.org.uk/keeping-children-safe/online-safety/talking-child-online-safety/
https://www.bbc.co.uk/programmes/p02488p8
https://nationalonlinesafety.com/training/search?search=parents&sort=new&cat=&type=resource
https://www.ceop.police.uk/Safety-Centre/How-can-CEOP-help-me-YP/How-can-CEOP-help-me-parent/
https://beinternetlegends.withgoogle.com/en_uk/parents/
https://swgfl.org.uk/audience/parents/
https://swgfl.org.uk/resources/online-safety-guidance-for-parents/